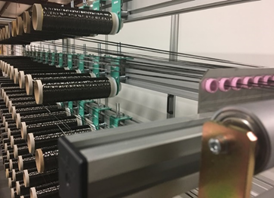 The handling and guiding methods of carbon fibers
to prevent filament damage is often overlooked. However, it is an extremely important factor in carbon fiber production and downstream processes using carbon fiber.
Redirection with sharp angles, use of guides without proper surface finish, excessive tension, static contact points: these are all factors that can induce damage to the filaments in the carbon fiber tow. Broken filaments not only degrade the strength of the carbon fiber, but also cause issues in processing leading to production downtime.
Broken filaments accumulate on rotating parts and will snowball into a mess quickly, which not only needs an operator to intervene but can stop production or create defects in the product.
The main reason proper assessments are not made for fiber damage caused by inadequate handling is that there have been no quantitative means to measure fiber damage. Read more to find out about tools to accomplish this and some analyzation studies.