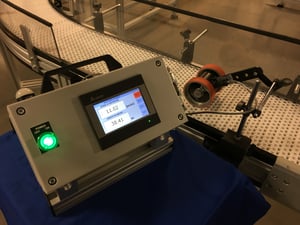 If speed and length calibration and verification with NIST traceability are a vital part of your ISO program, you need the proper test equipment to validate and maintain the accuracy of your production and process monitoring equipment.
A Portable Measuring Solution
At Izumi International, we produce feed rollers, nip rollers, pinch rollers, stretch rollers and driven winding systems designed to maintain a constant driving speed on fibers or web materials. To calibrate our equipment, we built a portable calibration tool to quickly and accurately measure product length and the line/surface speed of rollers, webs, belts and product. We realized this tool would also benefit our customers Quality and Maintenance groups that need to validate machine Line Speed/ Length displays or to troubleshoot and maintain their equipment.
The PLSC-1000 portable counter provides a NIST traceable speed/length calibration system designed to be easily moved around and mounted to production equipment for test, calibration and verification of speeds and lengths shown on the production equipment displays.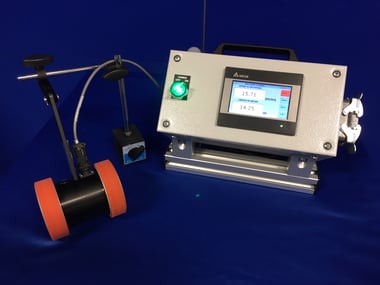 Technical Features
The standard PLCS-1000 is supplied with one dual wheel encoder, magnetic encoder mounting stand, remote I/O interface plug and NIST Calibration Certificate.
Some of the built-in Features of the PLSC-1000 include:
4.5" Color touchscreen operator interface
Storage in the PLCS-1000 base for encoder, mount and cables
Built in Carry handle
Dual 1 foot circumference encoder wheels
Standard/Metric Units selectable from the operator screen
Simple test setup and display selection from the touchscreen
Ready to measure differential speeds between two rollers (Optional second encoder required for this function)
User defined Over/Under Speed limits with Alarm Light indication and relay outputs
User programmed Length Reached function with Alarm Light indication and relay output
User I/O Plug provided with screw terminals for field connections
Can measure speeds of 600 meters/minute to a few millimeters/hour
High accuracy calibration of speeds/lengths up to +/- 0.01%.
Optional Accessories
Single or dual wheel encoders as needed to meet specific speed or count ranges
Encoder wheels can be supplied with different cover materials and diameters
Optical (non-contact) sensors for when wheeled encoders are not preferred.
Additional encoder mounting stands and brackets
Custom systems or programming for unique measuring applications
If you believe our PLCS-1000 may be a good fit for your production process, or if you have questions related to your specific application, please contact one of our knowledgeable engineers by calling 864.288.8001 or use the banner below.