With the increasing variety of resin systems available for carbon fiber and other high-performance fibers, there is a growing need for development of sizing materials which interface well with each resin/fiber combination.
For the development of the sizing material, it is often difficult to experiment without obtaining un-sized fiber. Unless you produce the fiber in your own facility, in many cases it would be necessary to de-size the fiber first, and then apply the desired sizing materials.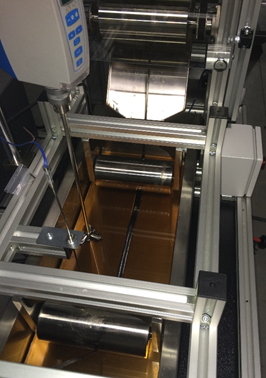 Any handling process can damage the fibers, and de-sizing / re-sizing can be particularly abrasive to the fiber. Thus, equipment for this process needs to put this factor into consideration, and must be as gentle or even more gentle to the fiber as the in-line sizing process during the production of the fiber.
We can provide turn-key systems for single tow sizing development lines as well as multi-tow sizing lines for production scale output requirements. Single tow lines are scalable and configurable: in many cases they are compact table-top units. Production scale lines incorporate industrial-grade equipment, same as the equipment we provide for fiber production plants.
See below for some considerations for specifying the right equipment for the sizing line you may need.
Pre-sizing Process
The let-off creel will be at the start of the process. The tension going in to the sizing bath can be important in some cases for the add-on ratio required. Tension is also an important factor which controls the spreading ratio before and inside the bath. Tension can be monitored throughout the process to see the effects tension may have on the sizing process.
Spreading of the fibers either prior to bath entry or inside the bath itself can be an effective means of getting sizing material dispersed evenly throughout the bundle of filaments.
De-sizing stations would be positioned before the sizing stage if required. Methods commonly used are burn-off or wash-off.
Sizing Process
Depending on the amount of sizing add-on that is required, dip baths and kiss roller systems are available. Dip baths are configured with adjustable dwell times for add-on controllability. Kiss rollers utilize adjustable speed rollers to control the add-on amount. For systems requiring multiple sizing materials, multiple baths can be configured in series.
Monitoring and/or control of various parameters in the bath can be accommodated as required. Temperature, solution concentration, conductivity, viscosity… are some parameters that can be controlled or monitored.
For development lines, it is recommended to have easily removable baths to allow for quick change of sizing solutions.
Drying Process
Drying can be done with non-contact or contact based methods. The output required and whether or not contact drying causes unwanted damage to the fiber usually dictates the method taken.
Fiber spreading can also be incorporated during the drying process, so that the fiber width is set during the drying process.
Evaluation Process
It is often useful to evaluate the qualities of the sized fiber in-line or in a secondary stage after the fiber has been sized. Protective qualities of sizing can be measured using a broken filament counter. Friction coefficient measurements can be taken to compare between sizing materials. Sizing material can have a large impact on the spreadability of a fiber, and providing a spreading station with width monitoring system can give instant feedback for this characteristic.
Collection Process
In the final stage, the fiber will need to be collected for the next process. A feed roller system and take up winder are typically used for this final stage. For wider materials requiring no-twist, a flat tow guide is used for traversing the fiber on the core. If the end product is a chopped fiber, then a chopper can be installed at the final stage instead of a winder.
For more information
Not exactly sure which solution you need, or starting from scratch on a new production line? Contact our experienced engineers for custom solutions tailored to your particular needs.