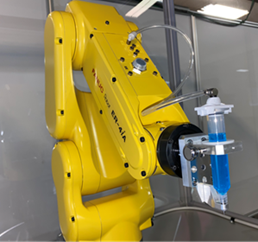 Dispensing by means of 6-axis robots is an efficient platform for various dispensing applications, when a 3-axis tabletop robot does not provide the flexibility required.
Software options are available to allow for path following of 3D CAD models or sketch patterns within a 3D model. Product models can be inserted into a simulated robot environment so that dispensing simulations can be generated offline. This enables the programmer to verify any axis limitations or collisions without taking the actual robot offline and prevents downtime of production.
Dispense verification options are also available to ensure proper dispense bead width tolerances are met, alert upon dispense failure, or for traceability requirements. Bead reconstruction or repair can be done on the spot to prevent product waste and down time.
Download a brochure for further details and options available.
Read the below to see which dispenser to equip on the 6-axis robot for certain applications.