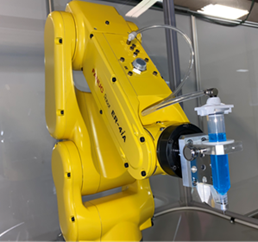 Dispensing by means of 6-axis robots is an efficient platform for various dispensing applications, when a 3-axis tabletop robot does not provide the flexibility required.
Software options are available to allow for path following of 3D CAD models or sketch patterns within a 3D model. Product models can be inserted into a simulated robot environment so that dispensing simulations can be generated offline. This enables the programmer to verify any axis limitations or collisions without taking the actual robot offline and prevents downtime of production.
Dispense verification options are also available to ensure proper dispense bead width tolerances are met, alert upon dispense failure, or for traceability requirements. Bead reconstruction or repair can be done on the spot to prevent product waste and down time.
Download a brochure for further details and options available.
Read the below to see which dispenser to equip on the 6-axis robot for certain applications.
Pneumatic dispensers for 3D printing / dispensing
ML-808GX:
This is an ideal choice for 3D printing. The ML-808GX excels in printing consistent lines.

SuperΣCMII:

The SuperΣCMIII excels in dotting applications, creating consistent dot diameters and dot volume.
Thermo-Master:

Combine either of above with the Thermo-Master syringe heater to melt materials for 3D printing/dispensing applications. These syringe heaters can go up to 200degC.
Positive displacement dispensers for liquid gasket dispensing

The Mohno-Master dispenser and Screw-Master dispensers are the dispensers of choice when it comes to liquid gasket dispensing applications. They both excel in dealing with high viscosity materials and materials in which viscosity can change over time.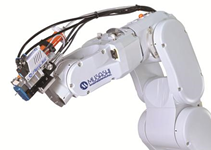 Jet dispensers for any angles of dispensing
Jet dispensers coupled with a six-axis robot enable almost any dispensing angle and can reach gaps and areas with obstructions. Ideal for grease jetting or epoxy jetting, and applications where parts are moving down conveyor belts.
Not exactly sure what dispenser solution you need, or what size 6-axis is required for your application? Contact our experienced engineers for custom solutions tailored to your particular needs.