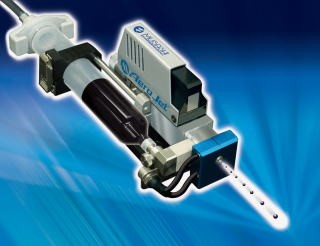 This post is the first in a series about fluid dispensing systems.
A relatively new development in the world of fluid dispensers, the non-contact jet dispenser uses a jetting mechanism to drop fluids from a small height onto the substrate, so that the nozzle never touches the surface of the product.
While it's not quite as precise as a pneumatic dispenser system in terms of creating thin lines, the jet dispenser is a great option for creating even coatings (such as underfill for circuit boards). Its more sanitary nature is also opening up new opportunities in medical research and pharmaceutical production lines.
Here are the unique benefits of non-contact jet dispensers: