This post is the first in a series about fluid dispensing systems.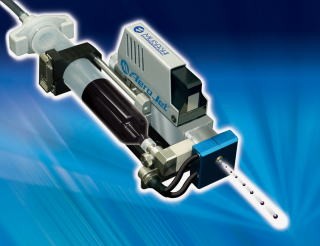 A relatively new development in the world of fluid dispensers, the non-contact jet dispenser uses a jetting mechanism to drop fluids from a small height onto the substrate, so that the nozzle never touches the surface of the product.
While it's not quite as precise as a pneumatic dispenser system in terms of creating thin lines, the jet dispenser is a great option for creating even coatings (such as underfill for circuit boards). Its more sanitary nature is also opening up new opportunities in medical research and pharmaceutical production lines.
Here are the unique benefits of non-contact jet dispensers:
Z-axis flexibility
Unlike pneumatic dispensers, the dispensed fluid from a jet dispenser falls a small distance before making contact with the substrate. This means the distance from the nozzle to the substrate surface doesn't need to be as precisely measured. Jet dispensers offer a much smaller risk of scrapes or other damage to the substrate, even when you're working with uneven surfaces.
Jet dispensers are also an ideal choice when obstacles prevent a nozzle from getting within close vicinity of the dispensing area.
No nozzle contamination
Non-contact dispensing is ideal for pharmaceutical applications because the nozzle never touches the surface of the substrate, meaning there's no risk of contamination from one surface to another.
This clean dispensing is also why non-contact dispensers are increasingly used in the emerging field of 3D bioprinting, in which living cells are dispensed into a gel scaffold where they can grow to form transplantable tissues.
Speed
The speed of the jetting mechanism can be remarkably fast. The Musashi AeroJet dispenser featured in the video below can dispense 333 shots per second!
Available dispensers
In addition to the Musashi AeroJet above, Izumi International offers custom dispensing cells and 3D bioprinters that use jet dispensing technology.
Not sure exactly which model will best suit your needs? Contact our automation experts to find the best solution for your needs.