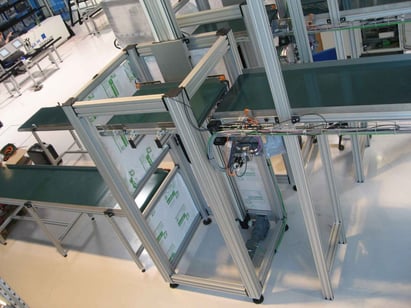 Do you need to transport products to conveyors at multiple heights? Do you need to load products into vertical storage racks and then retrieve them? If so, you'll need a high-quality vertical lifting actuator, or lift station.
In our experience, Robotunits extruded aluminum lift stations are among the best solutions for multi-level product conveyance or storage requirements. Here's what sets them apart:
Flexibility
Multiple conveyor options make it possible to easily design the system around the product that you are conveying. Robotunits lift stations can include any combination of belt conveyors, modular conveyors, and timing belt conveyors.
You can infeed and outfeed the conveyors in an infinite number of height options using the same basic aluminum extrusion framing parts, thanks to Robotunits' smart and streamlined product design.
Safety
You don't have to worry about adding a guard when you commission the lift station into your system, since Robotunits products are designed with the guarding built directly into the frame. Safety comes as a standard part of each station.
Ease of integration
The lift station can run products on and off the conveyors in infinite positions, allowing you to easily integrate the station into your existing operation.
In addition, these lift stations are fully compatible with the entire Robotunits extrusion framing system, which includes components for fencing, conveyors, machine frames, and workstations.
All parts of the aluminum extrusion frames are easy to assemble due to the Robotunits patented fastening technology that requires no welding or special tools.
For more information
Learn more about Robotunits lift stations on the vertical actuators product page, where you can find more detailed specifications.
Not exactly sure which solution you need, or starting from scratch on a new automation line? Contact our experienced engineers for custom solutions tailored to your particular needs.