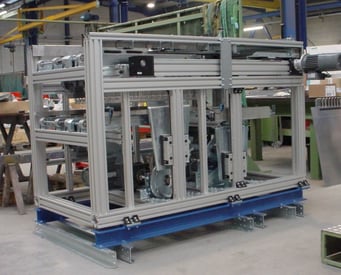 Are you considering investing in an aluminum frame system to mount production equipment or build workstations? T-slotted aluminum extrusion systems are growing in popularity due to their ease of assembly and adaptability to changing workflows. (See our previous blog post to learn more about the many advantages of aluminum extrusion systems.)
There are many aluminum extrusion systems on the market to choose from. Here at Izumi International we highly recommend the Robotunits system, for several reasons:

Streamlined product line
Some aluminum frame systems offer up to 5,000 different pieces, making ordering and assembly an overwhelming task. Robotunits, however, follows the "less is more" philosophy and offers only 250 parts—but these parts are carefully designed so they maximize the number of designs possible.
Robotunits' twelve extrusion sizes are all compatible with one another, with a uniform t-slot size that makes it possible to connect any combination of sizes.
This simplicity of design and limit to the number of parts minimizes the time you and your team will need to spend in training and building designs.
Ease of assembly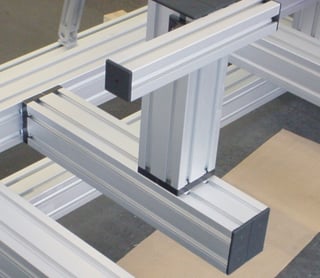 Robotunits offers patented fastening technology that is accurate, consistent, and durable—all without the need for drilling or welding.
To assemble, simply insert the drop-in t-nut into the wide slot and slide it to the desired position. Every turn brings the centering insert tighter into slot, resulting in play-free, centrally aligned positioning with 100% consistency. The leaf-spring in the t-nut protects against unintended movement, so positioning a t-nut in a vertical slot is easy.
We also have first-hand experience to show that this assembly system also saves time: Izumi International used to use a competitive brand of aluminum extrusion, but our internal time studies showed that due to the well-designed fastening technology Robotunits has incorporated, we have cut the assembly time in half.
Other advantage of Robotunits' t-slotted extrusion design include:
Easy repositioning of struts at any time.

Larger slot size allowing for up to a M10 nut.

Standard two-sided fasteners that provide equal strength on both sides

Integrated center slot that guarantees precise straight cross-holes

45-degree chamfered edges for easy attachment and visual continuity
Durability

The Robotunits team has carefully engineered the design of their aluminum extrusion frames for strength. The design features maximum wall thickness at key points to prevent deflection, and the concave surface of extrusion guarantees that bolts won't loosen as a result of vibration.

Need more information?


If you'd like to learn more about this t-slotted aluminum framing system, visit our Robotunits Aluminum Extrusion Technology page to view specifications and to download the detailed product brochure. If you have specific questions about the system, one of our engineers would be happy to talk to you!