The main focus of the Robotunits technology is to offer quicker, more flexible, and more intelligent solutions. This is true in particular for the Robotunits Conveyors. The range includes high performance conveyors with a wide range of belt properties with or without cleats in different shapes and sizes. Accumulating, vacuum or magnetic conveyors and custom conveyors outside of the standard dimensions are also available by special order. The Belt Conveyor System is seamlessly integrated into the Modular Automation System: The extrusions and fasteners used in the conveyors systems are the same as the framework, making integration into equipment framework easy.
Izumi International can also integrate these conveyors into turn-key material handling solutions: for small scale systems which only require a single conveyor to large scale material handling projects requiring several conveyors.
There are a variety of conveyors in the lineup as shown below:
Standard Belt Conveyors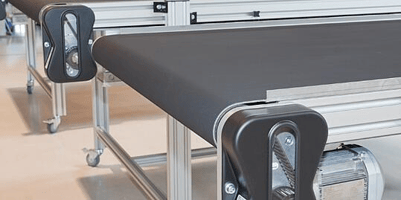 Robotunits offers the highest quality and a wide range of conveyor belts as well as great flexibility in drive options and positions. The available speed ranges from 2.6 to 58 m/min and the standard widths available are width 40 to 1200 mm. Lengths of up to 12 meters, longer lengths available upon request. A wide variety of belts can be offered: accumulation belts, low/high friction belts, high durability belts, etc. Nose bar options is available for the transfer of small parts. Configure the conveyor at www.robotunits.com, for 3D models and options.
Learn more about belt conveyors.
Powered Roller Conveyors
These intelligent low-voltage motorized driven conveyor rollers are ideal for efficient transportation of containers, totes, and boxes. With the motor integrated inside of the roller itself, the conveyors are compact, easy to install and require minimum maintenance. Curved sections, 90 degree redirection units, turntable sections, and lifting sections can be provided also. Each zone is controlled by a dedicated drive card, which has its own custom logic software so setting up zero pressure accumulation sections becomes an easy task, and eliminates the need to program sophisticated logic in the governing PLC.
Modular Belt Conveyors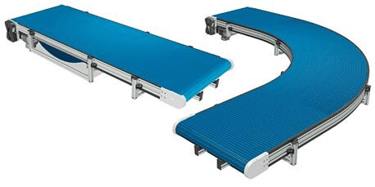 Robotunits offers service-friendly, modular belt conveyors that can be tailored to your exact requirements. Multiple widths, lengths, speeds, and sizes are available, and belts can be straight, curved, or on a gradient to create the perfect fit for your process. These conveyors are especially good for accumulation systems and conveying requiring curves and turns.
Learn more about modular belt conveyors.
Timing Belt Conveyors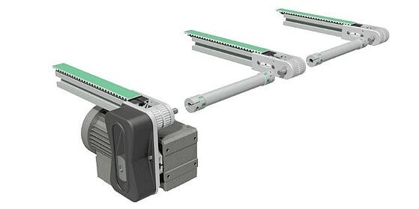 For the transport of bulky and heavy parts, as well as glass panels and flat panel materials, Robotunits offers the C4T and C8T timing belt conveyor. Standard lengths up to 12 meters are available. For this conveyor, a special, self-tracking timing belt that better withstands lateral forces than conventional belt is used. Parts travel on conveyor safely and smoothly since any interfering edges are removed. With the Robotunits timing belt, conveyor indexing and positioning applications are easily implemented conveniently and economically. Robotunits offers a wide range of different belt surfaces and profiles: Belts with custom nesting for automation, high grip belts for glass panel handing are some examples of specific belting materials available.
Learn more about timing belt conveyors.
Single Purpose Intelligent Conveyors VFD-E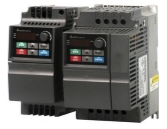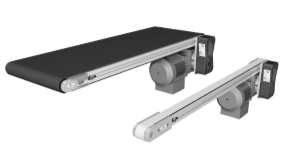 The VFD-E equipped conveyors can be used for single task, automated conveying. These conveyors powered with a VFD-E drive have a PLC built in the drive itself. The built in PLC is equipped with 6 digital inputs, 1 digital output, 1 replay output, and one analog output. The development software for the programming system is a free downloadable package.
Lift Stations for Conveyors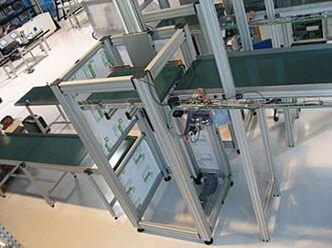 Do you need to transport products to conveyors at multiple heights? Do you need to load products into vertical storage racks and then retrieve them? If so, you'll need a high-quality vertical lifting actuator, or lift station. In our experience, Robotunits extruded aluminum lift stations are among the best solutions for multi-level product conveyance or storage requirements.
Vacuum Conveyors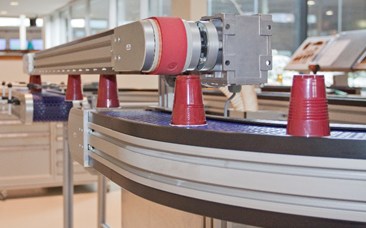 Vacuum conveyors have perforated belting and are equipped with a vacuum generator. These conveyors enable the conveying of lightweight items such as paper, plastic parts, films, etc. by using the suction force generated by the vacuum. The belting is designed per application. Vacuum systems can be equipped with the conveyor, or the user can hook up their vacuum source as required.
Combination Conveyors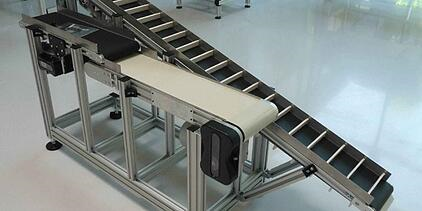 Different conveyors can be combined with great ease and flexibility as in this application where horizontal conveyors are integrated together with an incline conveyor with a cleated belt.
Arc Conveyors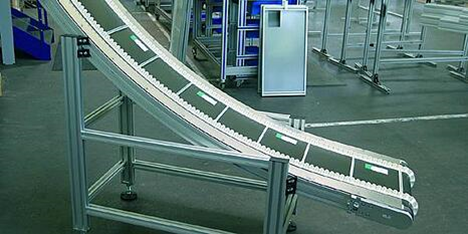 Incline conveyors for elevating the path of components. This type of conveyor is typical in the injection molding industry.
PLCS Line Speed Counters for Conveyor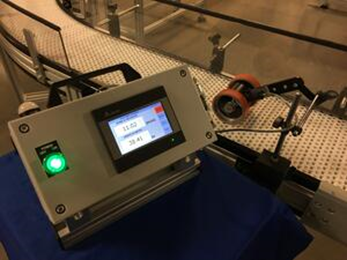 If speed and length calibration and verification with NIST traceability are a vital part of your ISO program, you need the proper test equipment to validate and maintain the accuracy of your production and conveyors. This portable measuring unit allows you to accurately measure the speed and distance travelled, and can communicate with other PLCs or alarm as required. Dual encoder versions are available for speed differential monitoring.
Learn more about PLCS line speed counters.
For more information
Not exactly sure which solution you need, or starting from scratch on a new automation line? Contact our experienced engineers for custom solutions tailored to your particular needs.
Topics: Industrial Automation, Robotunits, Conveyors