The Powered Roller Conveyor System from Robotunits is a multi-faceted system that handles product transportation suited to your individual needs. It is designed for immediate use with any orientation or application, and can be combined with all products of the Robotunits Modular Automation System.
Special highlight: The integrated guarding block for Poly-V belts is an integrated part of the roller design and can be assembled without tools.
| | |
| --- | --- |
| Facts | Benefits |
| Fully integrated control units | Plug & Play installation |
| Fully compatible in the Modular Automation System | Accessible T-slots for attachments |
| Power transmission with Poly-V belts | No additional guarding needed |
Watch Video Here
Straight Section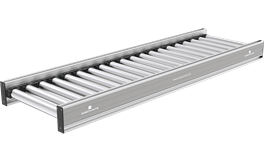 Following standard pitch sizes this powered roller conveyor unit has a lead time of only 10 work days. The position of the rollers allows for either a push-off option or can use the extrusion as an integrated side guide. Controllers and cables are covered inside the extrusion, and therefore protected from damage or contamination.
Curved Section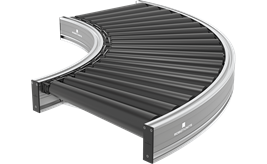 You can combine the two standard curve sections of 45 and 90 degrees with additional angles of 135 and 180 degrees. The adjustable and easy to integrate side guide system can be attached to all sections without tools.
Transfer Unit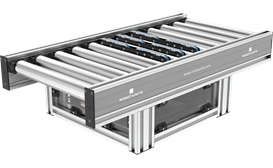 This compact unit offers transfer angles of 90 degrees in both directions. Its space saving design allows for retrofitting with an existing straight or curved section. As seen with all Robotunits Powered Roller Conveyors, the control units are pre-installed and protected inside the aluminum extrusion.
Turntable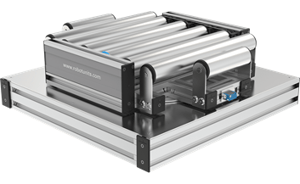 The continuous rotation can be configured between 0 and 270 degrees, and therefore allows for various orientations of your product during transportation. The turntable can be equipped with all Robotunits conveyor types such as flat belt, timing belt or modular belt conveyors.
Modularity within the Modular Automation System
Individual lengths and widths. Standard dimensions of 300 x 400mm or 400 x 600mm are available. Additional dimensions are available on request.
Speed, weight & temperature. Roller speed can be set individually in a range between 0 to 30 meters/min. Power transmission between motor roller and idler rollers are allowed by Poly-V belts. The Robotunits guarding block eliminates pinch points. Maximum weight per zone is 50kg.
Control Units for all Powered Roller components. All units are controlled with the ConveyLinx-Ai2 Controller from PULSEROLLER, using the protocols Profinet IO, Modbus/TCP, EtherNet/IP and CC-link. For EtherCAT systems we supply a MontionLinx-Ai controller. In addition to that the E-Qube-Ai control unit is available.
If you have any questions about this product or would like other expert recommendations for your automation process, give Izumi International a call at 864.288.8001 or contact us online. We'd love to help you find the most effective equipment for your application!