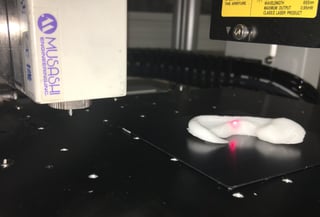 The new version of MuCAD (the programmable dispensing software interface for the Musashi desktop robots) now includes a feature to create dispensing profiles from G-Code. This makes it possible to dispense 3D structures from three dimensional CAD data with ease.
Musashi Engineering has been a leader of industrial dispensing and dispensing robots for over 40 years. Their vast experience with dispensing makes their equipment the perfect fit for bio-printing, which can involve a wide array of liquids with differing mechanical properties and viscosities. The equipment has been proven in the harshest industrial environments such as automotive applications or electronic applications, which not only demand high precision and high output, but required to be economically appealing as well. Refined over decades of industrial applications, Musashi dispensers and dispensing robots will provide the accuracy and affordability for your bio-printing needs.
Below are some further details on the G-Code enabled software for 3D dispensing, and other equipment that will aid in your bio-printing needs.
G-Code Enabled Interface
The G-Code interface in the software will allow you to import the G-code files into MuCAD. The import function will allow you to import the data by layers. Each layer can then be visualized in MuCAD which allows the operator to actually view the path and order of dispensing. The automated dispense path is not always optimized, as some paths can lead to an excess of fluid dispensing in one area. The ability to modify each layer after import is extremely helpful for optimizing the three dimensional objects to the operators requirements. The feature also includes the ability to wait for a preprogrammed interval to allow for the material to cool before applying the next layer. Other dispensing parameters such as pressure, temperature, speed, line width, etc. are adjustable from the software interface.
Dispensing Technologies
The wide variety of dispensing equipment offered by Musashi will allow you to configure a 3D bio-printer that is capable of meeting most requirements. Below is a list of some of the items which you may need for your project.
This is probably the most important aspect for 3D dispensing. Without full control over your dispensing parameters, it would be impossible to accurately dispense different materials. This is the area in which the Musashi dispensing systems will excel, due to their wide range of selections for almost any type of material. This link provides a basic selection guide for each type of dispenser.
The Thermo Master TCU-02 is a heating jacket to heat syringes to up to 100 degC (higher for special models) at an accuracy of +/- 0.5 degC. It is a good option when dispensing with PCL.
The Peltier Master TCU-05II is a heating/cooling jacket to both heat and cool syringes.
We also supply a variety of heating/cooling options for the robot table, to maintain materials to a constant temperature after they are dispensed.
Often overlooked is the importance of having a precision nozzle or needle at the end of your dispenser. Musashi has an assortment of nozzles, with the FN series going as small as 20 micron nozzle diameter. Coupled with the accuracy and repeatability of the desktop robots, this enables high precision dispensing with highly accurate placement.
If you don't know exactly what you need and would like a professional opinion, the engineers at Izumi International would be happy to assist you on your particular needs. Call us at 864.288.8001 or contact us online.