This month's blog post focuses on our Powered Roller Conveyors. These plug-and-play conveyors transport containers, totes, and boxes with precision and efficiency in straight, curved and 90-degree directions and are ideal for zero-pressure accumulation. You can also control each zone separately.
There are several options to choose from:
Powered Roller Conveyors. Available in straight and curved models, these units integrate a 24-volt drive and galvanized steel rollers.
Transfer Unit 90°. These conveyors let you transfer products at 90 degrees. You can also integrate units into any zone of a straight Powered Roller Conveyor.
Turntable. This space-saving series precisely turns products in various directions, all while maintaining the orientation of the box.
Energy-Efficient, Modular Units Convey Products in All Directions
Each plug-and-play conveyor series features a variety of roller conveyor modules, as well as fully integrated controls and Poly-V belt power transmission with safety covers. Compared to 230/400-volt drives, the conveyors' brushless DC motor reduces energy consumption, operating costs and noise levels. Units can carry workpieces up to 50 kilograms in weight and come preinstalled with sensors. They also achieve speeds up to 58 meters per minute and are available in a wide range of standard dimensions:
Roller spacing: 80, 105 and 160 millimeters
Frame width: 390, 490 and 690 millimeters
Width of conveyed products: 300, 410 and 600 millimeters
Standard length ≤ 6,000 millimeters
In addition, our Powered Roller Conveyors feature zero-pressure accumulation. Each conveyor is divided into individual zones that are interconnected and able to communicate with each other. If a transported product is running toward an occupied zone, then the product remains in the previous free zone until the occupied zone becomes free. Upstream zones follow automatically.
Save Time, Cut Costs
As with our other conveyor models, Powered Roller Conveyors are available with various accessories. They are compatible with our universal extrusion system, making it quick and easy to attach accessories or structural elements to the machine frame. Models are also low-maintenance and ready for immediate deployment, leading to significant time and cost savings.
To learn more about our Powered Roller Conveyors, please visit our product page.
See below a prime example of what our systems can help you achieve!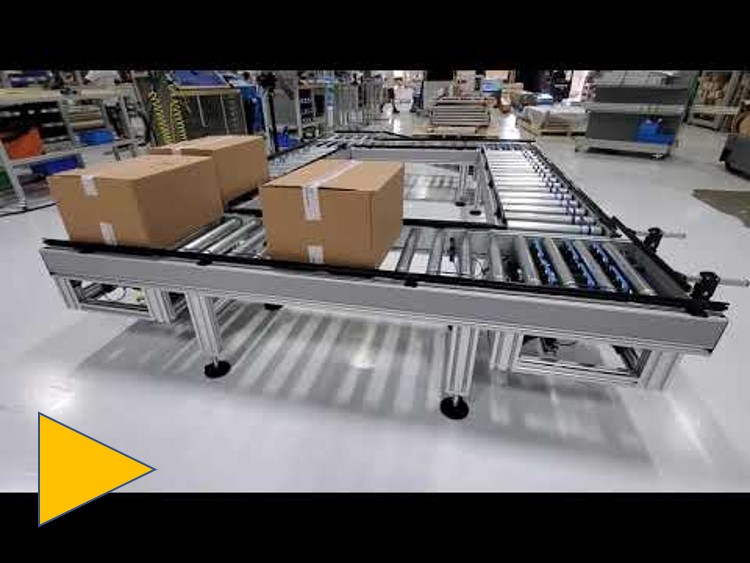 If you have any questions about this product or would like other expert recommendations for your automation process, give Izumi International a call at 864.288.8001 or contact us online. We'd love to help you find the most effective equipment for your application!