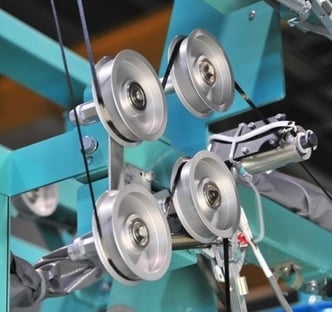 Whether you specialize in the production of carbon fiber, textile fiber, fabric, film, or any other kind of fiber or web product, proper measurements of length and speed are vital to your success.
Accurate and stable speed and length measurements ensure consistent output for your fiber or web material process. Inaccuracy in a processing line can result in various problems. If you produce less material than your equipment setting indicates, you'll upset your customer; producing too much means a profit loss for your company.
Many companies rely on the speed or length counters which are initially included on the equipment. But as time passes, how do you know that reading is accurate?
A portable measuring solution

At Izumi International, we produce feed rollers, nip rollers, pinch rollers and more designed to maintain a constant driving speed on fibers or web materials, and winders for these materials created to wind at constant speeds as well.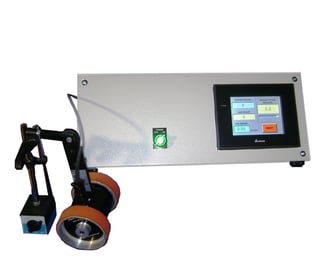 To calibrate our equipment before it goes out the door to customers, we built a portable calibration tool to quickly and accurately measure the line speed or surface speeds of rollers, or to calculate the length based on the speeds measured.
We realized this tool can also benefit our customers in the fiber or web production industries. The PLSC-1000 portable counter provides a reliable speed/length calibration system, and it's designed so that it can be temporarily mounted to measure the actual speed or surface speed of process rollers on equipment in the field.
Our portable counter is configured for each application, and is equipped with an easy-to-view operator interface which gives immediate feedback on the measurement.
This unit may serve as a calibration tool to keep in compliance with ISO standards, to troubleshoot production speed variations, or for laboratory use where a simple speed display is required.
Technical features
Some of the built-in benefits of the PLSC-1000 include:
Portable magnetic base makes it easy to move from one roller to the next
Double encoder models available to measure differential speeds between two rollers
Encoder wheels can be supplied with different materials, depending on the requirements
Can measure speeds of 600 meters/minute to a few millimeters/hour
High accuracy calibration of speeds/lengths up to +/- 0.2%.
If you believe our portable length and speed counter may be a good fit for your fiber production process, or if you have questions related to your specific application, please reach out to one of our knowledgeable engineers by calling 864.288.8001 or use the banner below.